Most adults don't want braces, but plenty of adults want straight teeth. Enter the revolutionary Invisalign braces. Thanks to clear, nearly invisible aligners, you can get a beautiful smile without the visibility or drawbacks of conventional metal braces with Invisalign for adults.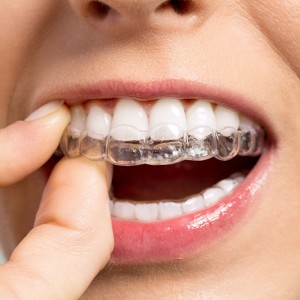 Invisalign for the Busy Adult
As a busy adult, the last thing you want is another responsibility or obligation. However, when you're ready to do something kind for yourself, when you're ready to make an investment in your well-being, Invisalign treatment won't require much of your time.
You only see your Center City Invisalign provider about every six weeks. The appointments will be brief. Your orthodontist will check to see how your alignment is progressing and give you the next sets of aligners so you can switch them as indicated in your treatment plan.
Aligners are worn 20 to 22 hours a day, which is a commitment, but it's one that you will adjust to quickly. Anytime you're not eating or brushing, the aligners are in your mouth, simple as that.
You change out each set of aligners every two weeks. Each aligner is designed to move certain teeth at certain times, so it's important to follow the customized plan your orthodontist designed for you.
Invisalign treatment takes an average of 12 months. Depending on where your teeth are and where they need to move, the treatment could be longer or shorter.
The Benefits of Invisalign for Adults
Maybe you didn't wear braces as an adolescent. Maybe you had braces but didn't wear your retainer and your teeth shifted back to their original positions. It doesn't matter what happened before – what matters is where your teeth are now and where you want them to be.
Invisalign gives you a straight smile, with plenty of benefits along the way and after treatment.:
Invisalign braces are as discreet as you can get. They're nearly impossible to detect on the teeth, which means you're getting straight teeth privately.
No interruptions. When wearing Invisalign, you can go about your daily life – working, parenting, socializing, playing, entertaining, relaxing – without worrying about how you look, whether something is stuck in your brackets, or if you're going to get a cut lip or cheek from the hardware on your teeth.
Invisalign aligners are smooth, incredibly thin, and barely visible. They not only hide from others, they won't interfere with your comfort or activities because they fit so snugly to your teeth.
No restrictions. You remove Invisalign aligners to eat and drink, so you aren't restricted from enjoying your favorite foods or adult beverages. Just be sure to clean your teeth and aligners before joining them together again.
High-performing. Invisalign can usually correct the same problems as conventional braces, from overbites to crowded teeth to crooked teeth.
Healthier teeth. Aligned teeth are healthier teeth. When your teeth are straight, it's much easier to floss and brush every crevice and surface. That lowers your risk of decay, cavities, gum disease, and other oral health problems or infections.
Pain-free. The motivation for many Invisalign-wearers is not only to get straight teeth but to alleviate pain. A misaligned jaw means a greater likelihood of TMJ problems and teeth grinding and clenching, which leads to problems like gum recession, worn enamel, and cracked enamel or dental work. When your teeth are in alignment, these problems disappear, so you have a beautiful and comfortable smile.
Are Invisalign Braces Right for You?
To find out if you're a good candidate for Invisalign, your Center City Invisalign provider will conduct a dental exam and take 3D photos of your mouth. If you qualify, a complete treatment plan will be created, so you know what to expect from start to finish. If you aren't a good candidate for Invisalign, don't despair. There is always another type of adult braces that can work for you and be almost as discreet as Invisalign.
Enjoy the convenience, affordability, and speed of Invisalign for adults. Schedule your consultation with Dr. Roberts or Dr. de Marsche, Center City Invisalign providers and Lawrenceville, NJ, Invisalign providers. Get the straight, healthy, beautiful smile you've always wanted.