No Brackets. No Wires. You're in the Clear with Invisalign Braces

Ask any traditional braces-wearer what they wish they could change about their orthodontic treatment and they are likely to say: "I wish my braces weren't so obvious," or "I wish I could eat whatever I want." Traditional metal braces are a powerful, effective, and proven method of aligning teeth. However, for the people who want something less attention-grabbing and more convenient, Invisalign braces work effectively and comfortably under the radar.
Drs. Roberts & de Marsche have successfully treated over 2,000 Invisalign patients in the Philadelphia area. They are dedicated to making orthodontic treatment accessible, whether patients opt for Invisalign or traditional metal braces, by maintaining office locations in Philadelphia and Lawrenceville, NJ.
How Invisalign Braces Work

Invisalign is a low-maintenance tooth-alignment option. Both adults and teens are drawn to Invisalign because it gets the job done without making itself known. Invisalign is different from traditional metal braces in that it moves certain teeth at certain times and not all teeth at once. This method of tooth-alignment is consistent and gentle.
After conducting a dental exam and taking 3D images of your mouth to ensure that you are a good candidate for Invisalign, your Philadelphia orthodontist develops a complete Invisalign treatment plan that is customized to your mouth alone.
The success of Invisalign depends on:
Your dedication to wearing the aligners as instructed, including changing them approximately every two weeks to gradually move teeth into proper alignment.
How your teeth respond to the aligners and how willingly they shift into place.
Keeping up with visits to your Center City Invisalign orthodontist every six weeks or so for check-ups of the progress of your alignment and to pick up new sets of aligners.
Being dedicated to wearing the aligners for 20 to 22 hours a day.
Removing the aligners for eating and drinking and cleaning your teeth.
Keeping aligners clean as instructed by your orthodontist.
The Many Benefits of Invisalign Braces
Invisalign is an innovative, advanced method of tooth alignment that enables wearers to get straight teeth on the down-low. Here are just some of the benefits:
The aligners are virtually invisible unless you point them out to someone.
Straighten your teeth in half the time of traditional metal braces and enjoy fewer visits to your dentist. Invisalign takes nine to 15 months to complete, with an average of 12 months.
Aligners are removable so you can eat whatever you want, whenever you want without worrying about damaging brackets or wires.
Invisalign can correct nearly every problem that traditional metal braces correct, including overbites, underbites, crossbites, overcrowding, and large gaps.
It's easy to brush and floss as normal and no special tools are needed for cleaning.
The aligners are smooth, incredibly thin, and comfortable, so you don't have to worry about getting poked in the cheeks, lips, or gums by sharp wires or bumpy brackets.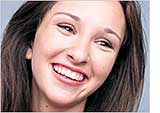 When you have straight teeth, you will have better oral health (straight teeth are easier to clean, which means less chance of tooth decay or gum disease), improved speech, and a major confidence boost. When you know your smile is flawlessly straight, you will feel good about yourself, which will translate to others both personally and professionally.
Invisalign has the power to change your life – in all good ways.
Ready to find out if you're a candidate for Invisalign braces? Schedule your consultation at Roberts & de Marsche at their Center City Invisalign office or Lawrenceville, NJ, Invisalign office to discuss all alignment options and find out what's right for your smile.