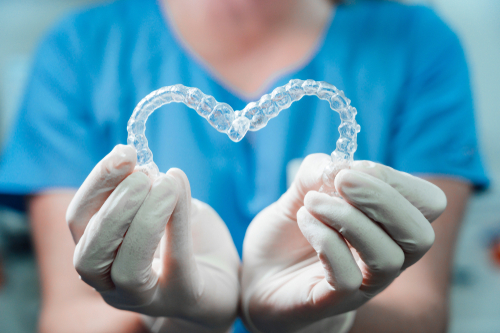 Braces have been around for a long time, changing smiles hour by hour, day by day, year by year. They have gotten smaller and more efficient, making orthodontic treatment that much easier. Then Invisalign happened, and life got even better for both patients and orthodontists. Here are just some of the reasons your Elite Preferred Invisalign provider is happy to offer clear aligners to qualified patients.
1. More People Pursue Orthodontics
There are many people who have avoided even undergoing an orthodontic consultation because they don't want to be told that they need conventional metal braces. Saying yes to a treatment like that is an around-the-clock commitment without a break. That's a good thing for many people – for others, it's a disaster.
Your Center City orthodontist is thrilled to have an alternative to metal braces and ceramic braces that allow people – adults especially – to pursue a straight, healthy smile. Invisalign for adults is a gift for those who want the beautiful teeth without all the metal mouth attention.
2. Teens Are Viable Candidates
Some teenagers really lament the idea of having brackets and wires on their teeth. If their condition is minor enough so that they don't have to be bonded into this hardware even temporarily, Invisalign Teen might just be a great option.
Determined teenagers have proven themselves great Invisalign candidates. They are motivated by the idea of clear aligners that blend into their teeth and do not draw attention to their mouth. Plus, orthodontists have a few additional perks that make treating teen patients with Invisalign even easier – eruption tabs for teeth still coming in and compliance indicators that show the trays have been worn the right amount of time.
3. Patients Have Incredible Freedom
There are rules that must be followed when wearing Invisalign to ensure that the treatment works properly, but there is also that beautiful option of being able to remove the trays whenever you want for a meal, snack, cleaning or even a photo. Orthodontists know that happy patients are compliant patients, and having freedoms where other orthodontic patients have none is an incredible benefit.
Orthodontists love to share with a patient that it's easy to live with Invisalign. This type of orthodontic treatment, just like any kind of braces, requires dedication, thorough brushing and flossing, and regular office visits, but it also doesn't come with rules like, "You can't eat that." Freedom is a built-in component of Invisalign for adults and Invisalign Teen.
4. It's Possible to Make Small Tweaks
When a patient has relapsed from previous orthodontic treatment, or they want to correct a few gaps between their teeth or crooked teeth that they've long tolerated, Invisalign is an excellent option. With this advanced orthodontic method, some people only need to wear customized trays for a handful of months. Their smile can be corrected in far under a year, which creates incredible goodwill, happiness, and smile satisfaction.
Interested in discovering whether you or your teen is a good Invisalign candidate? Schedule a consultation with orthodontists Drs. Roberts or de Marsche in Center City, Philadelphia.