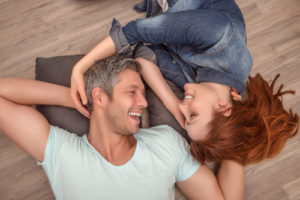 Invisalign patients are a unique group of people. They are undergoing customized orthodontic treatment, but they're… happy about it. Some of them even seem to love their Invisalign. How does that happen? And could you be one of the satisfied Invisalign patients too?
1. The aligners are practically invisible.
The biggest reason people are drawn to Invisalign is the subtlety of this orthodontic treatment. Invisalign is discreet, it's nearly invisible, no one knows that you're wearing it unless you tell them. You get straighter teeth every day without anyone being the wiser, and without having a metal mouth reflection in the mirror. Patients of all ages appreciate this perk. Teens are overjoyed to avoid brace face. Adults who wear Invisalign are thrilled to go about their daily life, work, and beyond without braces getting in the way.
2. You can eat whatever you want.
Anyone who wears conventional dental braces has rules to follow when it comes to diet. There are certain foods you must avoid so there is no chance of damaging your brackets or wires. But when you wear Invisalign, you remove the aligners for meals and snacks – so if you want that popcorn, pizza, even a few minutes of gum chewing, you can have it.
3. Maintenance is easy.
It is necessary to brush and floss your teeth more often when you're an orthodontic patient. That's a given no matter what kind of treatment you have. With Invisalign, you don't need any special tools to clean in and around hardware on your teeth. Simply keep a toothbrush and toothpaste at the ready so you can brush your teeth and clean your aligners before joining them together again. The most important thing is to avoid getting food or bacteria caught in between the aligners and your teeth – a quick pass with the toothbrush gets the job done.
4. They're efficient.
Where your teeth are now and where they need to move to will influence what type of Invisalign you qualify for. A full course of Invisalign takes about a year to complete, though it could take longer depending on your dedication to your treatment and the way your teeth respond to treatment. Invisalign Lite or Express is for patients who don't have a very complex misalignment case and their treatment can be as brief as six months. Ultimately, nearly all Invisalign treatment is faster than treatment with conventional braces.
Are You a Good Candidate for Invisalign?
If you've long wanted to do something about your crooked, gapped, crowded, or misaligned teeth, it's time to find out if Invisalign can work for you. Make an appointment with Dr. Roberts or Dr. de Marsch, Center City Invisalign providers, to find out if you're a good candidate for Invisalign or another type of orthodontic treatment. You deserve to have the smile of your dreams. And you might just fall in love with Invisalign along the way.