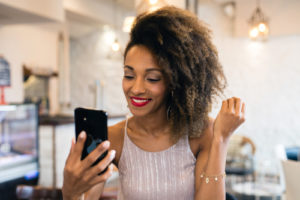 Do you cringe at the sight of your crooked or gapped teeth when you scroll through Instagram or Facebook photos? Become an Invisalign patient, and you will have the power to change the direction of your social media status, from grimacer to influencer, lukewarm smile to megawatt grin. Are you up for documenting your Invisalign journey on social media from start to finish?
1. Choose Smart Hashtags
Think you're just one of billions using your social media network of choice? Think again. With a few strategically selected hashtags, you could become an Invisalign influencer whose posts rise to the top of the heap on Instagram, YouTube, or elsewhere and even show up in search engine results.
Pick half a dozen hashtags and make them your own. Consider options like: #FirstAligners #InvisalignInfluencer #LoveMyInvisalign #InvisalignJourney #NewSetofAligners #AtTheOrthodontist #CleaningInvisalign #InvisalignforAdults #InvisalignTeen #InvisalignBeforeandAfter
Millions of other people have found success with Invisalign, but your experience is unique. Don't be afraid to document it, for yourself and others. People will thank you for your transparency, and you'll be surprised at how much fun you'll have taking folks along for the ride. And, one day, you'll love looking back on everything you went through to get your great smile.
2. Be Honest About Your Invisalign Experience
Invisalign isn't all fun and games. Sometimes, it's uncomfortable. #OuchMyInvisalign Putting in a new set of aligners can cause some pressure that isn't all that pleasant. This feeling is necessary and important – after all, the point is to move your teeth into their proper alignment.
You don't have to smile all the time in every photo in your social media documentation. Your followers will respect your honesty that sometimes you are not loving your Invisalign experience but, ultimately, the end will be worth the effort.
Use straightforward, simple, clean writing about how your Invisalign treatment is going. Answer peoples' questions. Encourage feedback. Document the happy moments as often as possible. #InvisalignSmile You'll educate and inform at the same time, letting people know how easy it is to take the aligners out to enjoy a great meal, or how convenient it is to change your aligners at home on your own time, or how delighted you are to avoid the discomfort of metal brackets and wires. #NoBraceFace
3. Hat Tip to Your Center City Orthodontist
Don't forget to tag your Philadelphia orthodontist or Center City Invisalign provider. People will want to know who gave you that amazing smile, so give a hat tip to the professional who's guiding you on your Invisalign treatment. You could even ask your orthodontist to pose for a photo with you that you can post on Instagram, complete a mini Q&A for you to link to, or be in a video.
Ready to take your Invisalign journey? Make an appointment with Dr. Roberts or Dr. de Marsche in Center City to find out if you're a good candidate for Invisalign or another type of orthodontic treatment. No matter what kind of braces you select, you're embarking on a new adventure – keep a photographic record of the path to your beautiful, straight smile.