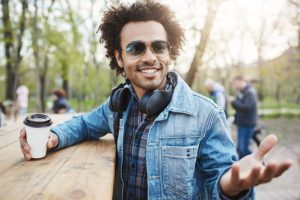 Preparing for Invisalign treatment is a thrilling time. You've chosen to give your teeth attention and dedicate yourself to aligning your smile. This decision will allow you to not only achieve good oral health but improve overall wellness. It's important to know, however, exactly what you're getting into with Invisalign braces.  
1. Invisalign is a serious commitment.
When you choose Invisalign, you are committing to at least one year of orthodontic treatment, maybe more. While it may seem like you're free while wearing Invisalign because you aren't stuck with semi-permanent brackets and wires, this type of orthodontia is still a responsibility. When you wear clear aligners, they must be on your teeth for 20 to 22 hours a day, every day. It's essential to follow your customized treatment plan and change your aligners as indicated to ensure that your teeth move into alignment as designed by your Center City Invisalign provider.
2. Your enjoyment of food isn't interrupted – but there are rules.
One of the biggest perks of Invisalign is being able to eat whatever you like. There are no food restrictions because the clear aligners are removable and you're not limited by delicate wires and brackets. However, Invisalign must be taken out every time you eat something. There are no exceptions for a small snack or a glass of wine. The clear aligners can be broken if you chew with them, and any foods or drinks can permanently stain the material, which means people will notice the aligners, and they won't look good (or smell good).
3. You must keep your aligners clean.
It's important to clean your aligners daily as instructed so they stay clear, but there is another critical reason to make cleaning a priority: to avoid tooth decay. Invisalign is fitted snugly against your teeth. If there are bacteria or food particles stuck between the aligners and your teeth, there is a greater likelihood of developing a cavity. It's essential to keep your teeth clean too with thorough daily brushing and flossing to minimize any food remnants or bacteria from setting up shop.
4. You must wear a retainer.
No matter what type of orthodontics are done – adult braces, youth braces, or Invisalign – retainers are part of the equation. The work you have put in over the months of wearing Invisalign will disappear if you don't keep your recently moved teeth in place. You will be fitted for a customized retainer and, in some cases, you will wear your final set of Invisalign aligners for a longer time. Retainers are usually worn at night while you're sleeping so the inconvenience is minimal. If you are tired of any mouthpieces, talk to your Lawrenceville orthodontist about having permanent retainers put in place behind your teeth.
Get a Straight, Stunning Smile with Invisalign
Your Invisalign treatment is only as successful as your dedication to this orthodontic treatment. Wearing Invisalign is a big responsibility but, when you follow your Lawrenceville Invisalign provider's instructions to the letter and take good care of your aligners and teeth, you'll see an aligned smile before you know it. And the minor inconveniences of living with braces will ultimately be worth it.
Learn more about Invisalign and whether this is the right orthodontic method for you by scheduling a consultation at Roberts & de Marsche, the orthodontic practice that serves the Philadelphia and Lawrenceville areas. Our Center City dentists have treated over 2,000 Invisalign cases and they're ready to help you too.