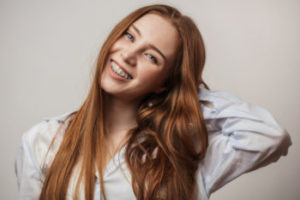 Teens may consider orthodontics a punishment or something their parents force them to do, though there are just as many adolescents who embrace the milestone. Adults with braces have willingly sought out this choice for themselves and they are thankful for the opportunity, even though the journey isn't always easy. Braces are an adventure, no matter who's wearing them, and there are plenty of reasons to be thankful for them.
1. You will have healthier teeth.
Wearing braces is all about getting a straight smile, of course, but there are other perks to wearing braces. Most notably, your teeth will be healthier when your treatment is complete. Straight teeth are easier to clean and take care of, which means fewer chances of food particles or bacteria getting stuck in between teeth or in hard-to-reach areas. Straight teeth mean less tooth decay, less chance of teeth grinding, and less need for fillings or other dental restorations.
2. Your confidence will skyrocket.
It's natural to be a little self-conscious when you have hardware on your teeth. But that feeling will not last long. As you get used to the work of wearing braces, as you notice your teeth beginning to change and move into alignment, and finally when you get those braces off forever, your new smile will be something you want to show off. You'll feel good about yourself and your teeth and your confidence will follow.
3. You have options.
When you want orthodontic treatment but you don't want to draw attention to it, you have options from which to choose. Most notably, clear braces or Invisalign, both of which are difficult to see and blend in with your smile. Clear braces are made with brackets and they're stuck on your teeth for a while, but Invisalign uses removable trays that let you take brief breaks from orthodontics when you need it.
If you are a patient who is ready to show off their metal mouth, you may be interested in the many rubber band options available. You can change your bands at every check-up with your orthodontist to mark a holiday or highlight your favorite colors, newest outfit, or preferred sports team. Some people like to highlight their orthodontics rather than try to hide them.
4. You have access to modern braces.
There was a time when large metal brackets and wires were the only option for braces-wearers. Now, brackets are much smaller and less noticeable, whether they're metal or clear. And, of course, there is that wonderful innovation known as Invisalign with its clear trays and overall discreet operation. Getting braces today is far easier and much more comfortable than it ever was in the past.
5. A little inconvenience is worth the outcome.
Sure, you have hardware on your teeth or trays to keep clean and safe. Sure, you need to see your orthodontist regularly for check-ups. But all the little things that are necessary to keep braces working properly is peanuts compared to the incredible results you get from orthodontic treatment.
If you're dragging your feet about getting braces or feeling dejected about already being stuck with them, hang in there. The rewards far outweigh any inconvenience. Find out what kind of braces might be right for you. Contact Drs. Roberts & de Marsche in Center City to schedule a consultation.