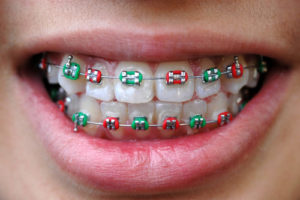 When you wear braces and Invisalign, you know the rules. When the holidays roll around, however, it's easy to get distracted and maybe even a little lazy. It's understandable. You just want to relax and enjoy the season, whatever you celebrate. Unfortunately, taking your eyes off the prize – a straight, healthy smile – can lead to disaster. So, whether you wear conventional braces or Invisalign, here are some reminders to get you through the holiday season.
Brush Well and Brush Often
Holidays and eating go hand in hand, so you want to make sure you clean up well after all meals and snacks. If you wear Invisalign, it's especially important to clean your teeth and trays before you put them snugly back together. You don't want to get any food or bacteria stuck in between.
If you wear conventional brackets and wires, keep up your regular cleaning routine and make sure you meticulously get in between all those brackets and wires. Now is not the time to slack on dental care. Keep your teeth healthy and your braces clean so you don't have any problems over the holidays.
Keep Your Kit Handy
Whether you are traveling for the holidays or will be out of the house for hours at a time to shop or celebrate, make sure you have the necessary supplies with you. This should be an easy rule to follow since seasoned orthodontic patients already know what they need at all times – their trusty braces kit. This should be packed with a toothbrush, toothpaste, other cleaning tools, wax, and a case for your trays if you wear Invisalign or a retainer.
Watch What You Eat
It is tempting to dig into all the super treats available during the holidays. Invisalign wearers have it easy – remove the trays and enjoy. But people who sport traditional braces have a bigger challenge. Be mindful of what's good for your brackets and wires and what's not. Skip the peanut brittle, nuts, chewy fudge, and hard candies. Stick to soft fruits, cooked vegetables, soft cheeses, puddings, and cakes.
Keep Your Orthodontic Appointments
Your orthodontic treatment stays on track when you check all the boxes, which includes seeing your orthodontist as scheduled. Those visits are integral to your treatment plan, designed to occur at specific times to make sure you get the necessary adjustments or pick up your new sets of Invisalign trays. You're busy at this time of year but do your best not to push your appointment by more than a few days so your treatment can keep moving in the right direction.
Bling Your Braces
There's no reason you can't have fun with your braces or Invisalign. Ask your Center City orthodontist to bling out your hardware with green and red rubber bands, or blue and white, or whatever colors you love. Ask about Invisalign Stickables and whether they recommend them for your smile.
Most of all, be thankful that you are working toward a fully aligned smile. Know that at the end of it your teeth will be healthier, stronger, and look amazing. Questions about getting through the holidays with your braces? Contact Drs. Roberts & de Marsche in Center City to schedule a consultation.