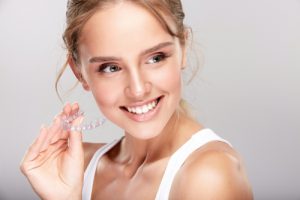 Plenty of Center City braces-wearers complain about their orthodontic treatment, but any discomfort you may feel or inconvenience you may experience is a means to a worthwhile end: beautiful, straight teeth. If resentment is all you feel about your braces, it's time to look for the positives and open your heart to the benefits of braces.
Here are just some of the many reasons to love your braces:
1. You're getting a healthy smile.
Straight, gap-free, perfectly aligned teeth are the main motivation for most orthodontic patients. What your dentist loves is that you're also getting a healthier smile thanks to braces. Because aligned teeth are easier to clean, your flossing and brushing efforts will go a long way and you'll be less susceptible to plaque and tartar build-up and less likely to develop cavities.
2. Your mouth won't hurt anymore.
We're not going to lie – sometimes braces can feel snug and uncomfortable and make your mouth sore. However, this discomfort is a minor inconvenience when it comes to how much pain braces protect you from. Grinding and clenching your teeth and TMJ problems can all be relieved with a course of orthodontics. You'll be less likely to suffer enamel erosion, receding gums, and broken teeth, all side effects of unaddressed jaw problems.
3. No one can see them.
If you opt for Invisalign braces or Invisalign teen, you'll be straightening your teeth as discreetly as possible. The nearly invisible aligners are so thin and clear that the only way people will know you have braces is if you tell them.
Ceramic braces offer the same unnoticeable treatment. Designed to be inconspicuous, these tooth-colored braces blend in with your enamel so you don't feel self-conscious about having a metal mouth.
4. Innovation is on your side.
Invisalign and tooth-colored orthodontics are a beautiful thing for the Center City braces patients who qualify, but other technology gives you a better orthodontic experience than your parents had too. Brackets are smaller, treatment time is faster, the wires work better. Everything improves with age, even braces.
5. Your Center City orthodontist is awesome.
Whatever dental care you're undergoing, one of the most important components is to work with a dentist you like and respect. Drs. Roberts & de Marsche have decades of orthodontic experience between them but, most of all, they focus on the patient first. Your budget, schedule, and goals for your smile all factor into the type of treatment you will pursue together.
From conventional metal braces to Invisalign, adult braces to youth braces, find out what orthodontics are right for you.  Make an appointment with Dr. Roberts or Dr. de Marsche at our Center City, Philadelphia or Lawrenceville, NJ, office. We love to see you, and we love to create a smile with adoring.