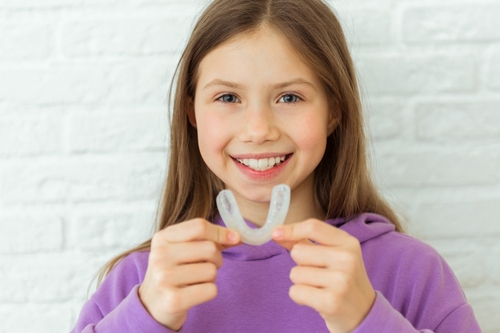 If your tween or teen got braces or Invisalign Teen over the summer, they are heading into a new school year in a new way. Orthodontics are a major rite of passage for any adolescent, and it's important to ensure that they keep up with good orthodontic care when they're in school or with friends and not only when they're home. Here are some of the tips to help your teen succeed in going back to school with braces.
1. Create a Survival Kit
Everyone who wears braces or Invisalign Teen needs a survival kit. This should include:
Toothbrush
Toothpaste
Dental floss
Interdental brush
Orthodontic wax
Invisalign Teen case
These tools don't take up a lot of space in a backpack and having them at the ready ensures that your teen is always prepared to clean their teeth, protect their mouth from discomfort, and keep their aligners safe.
2. Invest in Extra Cases
Invisalign wearers must always have an aligner case with them. Even though the trays are meant to be worn for 20 to 22 hours a day, they are removed for meals and cleanings. When your tween or teen heads to the cafeteria for lunch, they need a place to put their trays that isn't a napkin or their pocket. Thankfully, Invisalign cases are slim and easy to carry around for safekeeping.
3. Get a Mouthguard
All athletes would be wise to protect their teeth, but orthodontic patients must especially do so. Braces won't slow you down when it comes to sports – you just need to let your orthodontist know that you're an athlete and need a mouthguard to protect your hardware so you can play hard without worrying about your teeth, lips, and gums.
4. Adjust Lunch Offerings
There will be days when your teen's mouth hurts a little more than others. Discomfort from braces is temporary but it is to be expected after any adjustments or changes to new trays and more teeth and their roots begin to move into new positions. Be prepared to pack a soft lunch or cold items on these days, especially if your teen usually buys a lunch in school. Food flexibility is important when braces are part of your household.
5. Prep for Minor Emergencies
Accidents can and do happen for wearers of braces and Invisalign Teen. However, not every problem is a major emergency. If your teen loses a bracket, breaks a wire, or cracks their Invisalign aligner when they're in school, these are problems that need to be dealt with soon, but a text to you or phone call home is enough to get the ball rolling. You can reach out to your Center City orthodontist to schedule an appointment and get the problem corrected as soon as possible, ideally that same day. Try not to panic – either of you – there is always a solution for any orthodontic complication.
Simplify Back to School with Braces
Going back to school is always a milestone, but adding braces or Invisalign Teen to the mix is a big deal too. Help your child adjust to their new temporary way of life by following these tips and getting advice from Drs. Roberts or de Marsche in Center City, Philadelphia. Schedule a consultation with any questions.