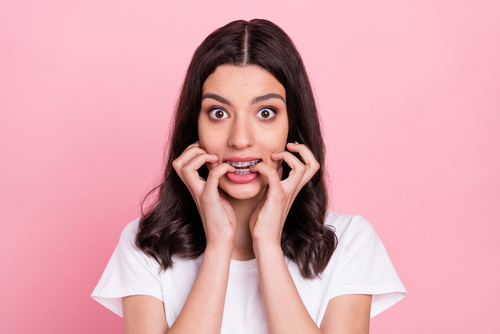 Going to the orthodontist for braces or Invisalign can be stressful for some people. They can't see what's going on while the orthodontist or orthodontic assistant is at work, or they are worried about mouth pain during or after the appointment. You are not alone in your orthodontic anxiety, but there are plenty of viable ways to cope. Most methods for managing orthodontic anxiety are simple, which is great because that makes them easy to remember in times of stress.
1. Talk to the Orthodontist
Yes, your Center City orthodontist is on a schedule and doing their best to stay that way, but there is a certain amount of time allotted for you and your treatment. If it calms you down to have a little talk with the orthodontist before the work begins so you know everything that's going on, don't hesitate to speak up and make sure this activity is budgeted into every appointment going forward.
2. Keep Your Hands Busy
Adults, bring a stress ball. Kids, bring a stuffy. Having something comforting in your hands while you're in the orthodontist's chair is good for everyone. Bring a fidget spinner, a squishy, a book, or whatever calms you. Your orthodontist wants you to feel fine during your appointments, and they are supportive of the methods you need to find peace and stillness while getting work done.
3. Bring a Friend
Kids, of course, always come to the orthodontist with a grown-up. Adults, though, may attempt to manage every visit on their own. If you have orthodontic anxiety, you don't have to suffer through your worry alone. Bring a partner, a friend, or, yes, even your child, to help you find a happy place as you voluntarily upgrade your smile.
4. Distract Yourself
Some people manage their anxiety by tuning out what's going on around them or, in the case of braces, inside their mouth. You can distract yourself by popping in earbuds and listening to music, a podcast, or a book. Watch a movie on your phone. For many people, phones are a lifeline in high-stress situations, offering an unending amount of distraction when you need it most.
5. Meditate
It's not easy for everyone to go into a meditative state when they're having wires changed, a bracket replaced, or an expander cemented onto their molars. Anyone who has the power to meditate though can benefit greatly from this skill when at the orthodontist. Begin the meditation in the waiting room, getting your mind and body ready for what's ahead, and try to maintain a state of relaxation throughout your appointment.
6. Choose Invisalign
If your Center City orthodontist determines that you're a good candidate for Invisalign, consider getting this treatment to straighten your smile instead of conventional metal braces. Invisalign trays are comfortable and smooth. There are no brackets or wires required. The only discomfort is getting used to the pressure from a new set of trays every time you switch them out (approximately every two weeks). Patients are partially in control of Invisalign treatment, which can sometimes be enough to minimize orthodontic anxiety.
Still worried? Put your mind at ease. Schedule a consultation with Drs. Roberts or de Marsche in Center City, Philadelphia.