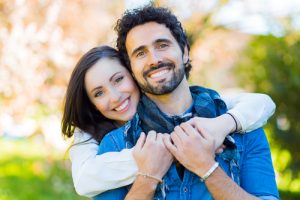 Your teeth are crooked, and they're not exactly white. This doesn't mean you have an unhealthy smile, it just means that you need some help to get it in flawless shape. Invisalign braces are a powerful teeth alignment method. Pair this with professional teeth whitening and the result will be an all-natural five-star smile.
Why Invisalign Braces Are the Smart Choice to Straighten Teeth
There are cosmetic dentistry treatments that straighten and whiten your teeth at the same time, and the result is a powerful, beautiful smile. However, one of the biggest reasons people pursue orthodontic treatment is to improve the functionality and comfort of their smile. And this outcome isn't guaranteed with cosmetic dentistry.
Your Invisalign treatment plan, fully outlined at the start of your orthodontics, is designed to gradually move the teeth and jaw into alignment. Invisalign is unique because it moves certain teeth at certain times, slowly pushing your teeth into alignment.
Adults who opt for Invisalign usually do so for a variety of reasons, including:
A discreet orthodontic method. No one ever needs to know that you're wearing the nearly invisible aligners unless you tell them.
Freedom to eat whatever you want. You can't eat while the aligners are in your mouth, but you can certainly eat any foods or drinks you like when Invisalign is out of your mouth (which should only be for two to four hours a day, at the maximum).
Easy upkeep. There are no brackets or wires to maneuver around when you wear Invisalign. Your brushing and flossing need to be on point and done regularly as usual, but you won't need special tools for cleaning. (Your aligners do require some TLC though to make sure they stay clean, clear, and free of odors.)
No interruptions. The last thing any adult wants is for braces to interfere with their lifestyle. Your job, social life, personal relationships, and even your selfies won't be interrupted by Invisalign. You can go about your daily life as usual.
What's So Great About Teeth Whitening
Over-the-counter teeth-whitening products are easy to find. Their effectiveness, however, is up for debate. A professional teeth whitening will make nearly any teeth look better – as long as the patient is a good candidate for whitening – but an even more impressive smile is one that is straight and white.
Just look at Michael's transformation from a crowded, stained smile to straight, white teeth. After 12 months of Invisalign therapy, his teeth were whitening for dramatic results.
At Roberts & de Marsche, a professional teeth whitening treatment is included for every Invisalign therapy case. We want your teeth to be straight, strong, healthy, and comfortable, and we want them to look as amazing as they possible can. Make your appointment at our Center City, Philadelphia or Lawrenceville, NJ, office to find out more about adult braces and Invisalign braces.