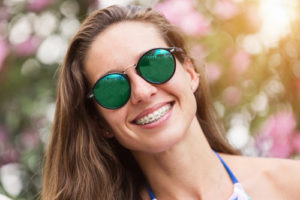 One of the biggest factors that any orthodontic patient focuses on are the restrictions that come with wearing braces. Certainly, there are things that you cannot do while you have brackets and wires on your teeth, or while you are wearing clear trays. It's easy to get bogged down in the present and forget about the future, but we'd like to take this Independence Day to remind you of just how freeing braces can be.
Healthier Teeth Are Worth the Wait
The best thing you can do when you're wearing braces and feeling restricted by their rules is to remember just what you're doing with them on your teeth. The changes you're making to your smile are cosmetic and will make your teeth, your smile, and you look better, but your oral health will benefit too.
When you have straight teeth, they are much easier to take care of. Cleaning in between teeth with floss and toothbrush will be a breeze, which means you will have healthier teeth that are far less susceptible to developing tooth decay. That means a future free of fillings, root canals, and other infections.
Braces aren't stopping you from having healthy teeth – they're making it possible.
Prepare to Celebrate Your Journey
Sure, you'll be hemmed in by brackets and wires for a while if you're wearing conventional braces, but whether they're metal, clear, or ceramic, adult braces or teen braces, this traditional orthodontic treatment is tried and true. Braces work and they correct problems you may have once considered impossible to fix, like major overbites, underbites, cross bites, open bites, crowded teeth, gapped teeth, and more.
At the end of your braces journey, your teeth will be freed from their hardware and you will have a smile that is smooth, straight, and streamlined. It will be beautiful – and independent. The restrictions you have while wearing braces or Invisalign are only temporary. So you can celebrate your release from brackets and wires by enjoying your favorite foods, sugar free gum, and gorgeous, unencumbered smiles.
Maintain Your Independence with Invisalign
If you want to access your freedom while wearing braces, there is one orthodontic treatment that offers such a solution – Invisalign. If you're just talking to your orthodontist about straightening your teeth, ask if you're a viable candidate for Invisalign or Invisalign Teen. This revolutionary treatment lets you grasp a little freedom here and there while undergoing straightening.
The clear trays are removable, and even though you must wear them 20 to 22 hours a day, they are taken out for meals, snacks, and cleaning. That means you have plenty of time to admire the progress that's being made, free from hardware or aligners, and that should be enough motivation to encourage you to wear the trays as instructed until your treatment is complete. Remember, Invisalign takes about half the time of conventional braces – so the work that's being done is happening quickly and with far less demands on your time.
Find out what orthodontics are right for your smile. Schedule a consultation with Center City orthodontists and Invisalign providers Drs. Roberts & de Marsche.