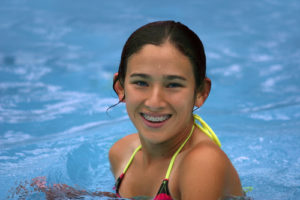 There have been many notable moments from the Tokyo Olympics, but some of the most inspiring were the big smiles from gold medal swimmer Yui Ohashi. The Japanese athlete surprised many when her grin revealed teeth covered in braces. She wasn't shy about letting the world see her orthodontia as she celebrated two gold medal victories in the Olympic pool.
Win with Braces
Ohashi won gold in the women's 200m individual medley and the 400m individual medley. The swimmer spoke to reporters about all the stresses leading up to the Olympics, from the yearlong delay of the games to mental and physical setbacks to the pressure of competing on a global stage.
Worrying about braces wasn't on Ohashi's radar among all those other major matters – and braces don't have to be an issue for your young athlete either.
Braces do not prevent people from playing sports. The only thing you must do is make sure those braces are protected during practices, games, and meets. Your orthodontist will create a customized mouthguard that will fit over braces and protect the hardware and teeth should an athlete take a hit to the mouth or collide with another player. This goes even for wearers of Invisalign Teen.
Olympians with Orthodontics
Ohashi isn't the only Olympian who has been proud to show off her "metal." Other notable athletes who have worn braces include USA swimmer Missy Franklin. The four-time Olympic gold medalist rocked her braces at age 17 during the 2012 games in London. At the same games, American hurdler Lashinda Demus earned a silver medal and showed off clear ceramic braces, also in 2012.
We are willing to bet that there are many Olympians who are sporting Invisalign too, and the aligners aren't getting in the way of them training, competing, and winning. If an Olympian wears braces and smiles proudly, you can too. No matter what sport you play, braces don't have to interfere.
Ohashi said, "It was a miracle for me to participate in the Olympic Games in my own country, so it was a big event for me, and I hope that I was able to inspire people – it might be strange to say this but – inspire those who were against the Games, or people who were not so interested in sports, and I hope I've encouraged them even a bit."
We hope she's encouraged some young athletes too to press on, even with braces on their teeth.
Be a Braces-Wearing Athlete
Don't let the likelihood of braces prevent your teen from pursuing sports, and don't let a love of sports prevent them from getting braces. The two can coexist easily and safely without interfering with each other.
Find out what type of orthodontics are right for your teen's smile and let your orthodontists know that your child plays sports so they can take that into consideration when developing a treatment plan. Schedule a consultation with Center City orthodontists and Invisalign providers Drs. Roberts & de Marsche to learn more.