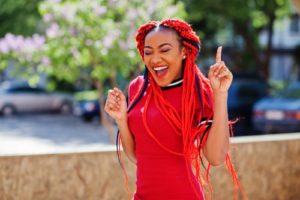 Election season is here, and while you may not be able to control the big stuff, you do have the final say over what happens if there are different types of orthodontic treatments in the running to address your oral health. If you need braces, it's comforting to know that there are many types of effective treatments, and you may qualify for several of them. If you have a decision to make, do your research, understand each platform, and cast your vote for the braces that will serve you best.  
Invisalign
Both teens and adults can qualify for Invisalign. This orthodontic alternative to conventional braces is attractive to many patients for a variety of reasons:
Clear trays are difficult to see
Removable aligners
Freedom to eat what you want
Faster treatment than braces
Fewer visits to the orthodontist
Easy to clean your teeth
Invisalign and Invisalign Teen can correct nearly every issue that traditional braces can fix, depending on where your teeth need to move and the severity of your misalignment. Invisalign is a popular choice among all demographics. It wins votes based on appearance, performance, and ease of use. But it's not right for everyone and some patients are better candidates for this treatment than others.
Braces for Kids
When we think of braces, we typically think of adolescents. However, some braces for kids get started in the elementary school years. Known as interceptive braces, these treatments are intended to address growing and changing mouths to correct major issues before it's time for a full course of orthodontics.
Expanders, space maintainers, upper braces, and other appliances can be used to fix or improve a problem like the position of the jaw or dental arch and the growth of the jaw bones. This Phase 1 of braces can also lower the risk of damaging protruding front teeth, correct harmful oral habits like thumb sucking, and even prevent an alignment problem from developing at all.
In many cases, interceptive orthodontics are used to simplify or expedite later orthodontic treatment. Getting early braces does not automatically eliminate the need for braces as a teen.
Adult Braces
Adults who choose to invest in braces may do so to change their appearance, improve the function of their teeth, or eliminate oral health problems, like teeth grinding and clenching, TMJ issues, and worn or broken teeth.
Many adults are drawn to Invisalign because its presence will not interfere with their lives professionally or socially. Traditional metal braces are certainly a noticeable choice, though clear or white ceramic braces can be the best of all worlds – doing the hard work of conventional braces without drawing as much attention to themselves.
There is also the option of lingual braces – adult braces that are applied behind the teeth – though this option is not often elected because it can be uncomfortable, take longer, and cost more.
Vote for Your Orthodontic Treatment
Ultimately, the goal of all orthodontics is to deliver a straight smile that is comfortable, functions properly, healthy, and does not cause the patient any pain. Contact your Center City orthodontist, Dr. Roberts or Dr. de Marsche, to schedule an appointment and learn more.