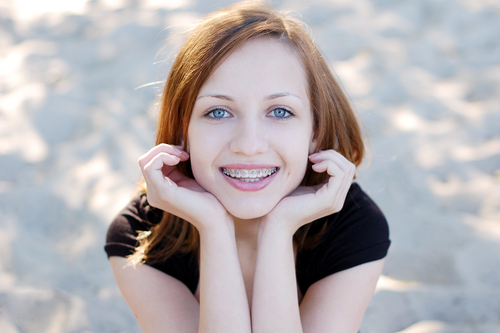 School is back in session, routines are getting established, everyone is tired and not yet fully adjusted to their new schedule. There may be some other bumps too – like your child easily managing their braces while dealing with classes, extracurricular activities, sports, and more. You can't be beside them every day to help them live life, but if your teen is struggling with their braces in school, you can help them find a happy place with a few strategic efforts.
Adjust Their Foods
Everyone who is new to braces will go through an adjustment period, learning how to smile with brackets and wires on their teeth, figuring out how to clean their teeth thoroughly, and – most of all – learning how to eat. This holds true for kids with braces too, who may have an expander or other appliance.
Favorite crunchy or chewy foods will be off the table, so this will be the time to get creative about meals and snacks for lunchboxes. Smoothies, pasta, yogurt, and other soft foods are the best route to take to start. They're easy to eat, are less likely to get stuck in the braces, and don't put much pressure on already sensitive teeth.
Create Oral Hygiene Kits
Braces require the wearer to brush their teeth more often. It's simply a necessity because food easily gets stuck in and around the brackets and wires. Make sure your teen has several oral hygiene kits – one for their locker, one for their backpack, one for your car – and include the following items:
Travel toothbrush
Travel toothpaste
Flossers
Interdental brushes
Soft dental picks
Orthodontic wax
If they can find a spare minute or two after lunch to clean their teeth, their smile will be healthier, they'll be happier and less self-conscious, and their orthodontist will be proud.
Arm Them for Minor Emergencies
Orthodontic wires poke lips and cheeks. Wires break and bend. Brackets can scratch. These are all normal side effects of wearing braces that every patient will experience at some point – and your child is likely to experience them during school. Help them to stay calm with easy access to their best friend – orthodontic wax.
This wax should already be in their oral hygiene kits, and they simply need to use it to get through the day and turn what feels like an emergency into a manageable nuisance. Then you can make an appointment with your orthodontist to get any problems addressed right away so they aren't uncomfortable or worried about a reoccurrence.
Stress Normalcy
Wearing braces in school can come with unwanted challenges, but remind your kids that they're not alone. If they're at that age for braces, so are their peers, and they will all be in it together to commiserate and appreciate the unique position of developing a healthy, beautiful smile.
Find out if your teen is a good candidate for braces or Invisalign Teen. Schedule a consultation with Dr. Roberts or Dr. de Marsche in Center City, Philadelphia.