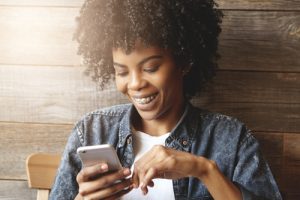 Whether you wear Invisalign braces or conventional metal braces, orthodontic treatment is a commitment. It's understandable that after months and sometimes years of braces, a patient simply wants to be done with treatment and enjoy their newly aligned smile. However, the work is not done yet – retainers are a critical part of orthodontic treatment.
Don't Ruin Your Straight Smile
You've reached the end of your orthodontic treatment. The freedom! You can taste it! You no longer need brackets and wires on your teeth. You no longer need to wear Invisalign aligners. Around-the-clock awareness of having something on your teeth and restricting you is gone. This release from braces is a milestone indeed.
Now, if you want to ensure that all the work you put in to straighten your smile is not wasted, retainers are essential. No one wants to hear that they must commit to more appliances and more dental visits. But choosing to ignore this essential step in orthodontic treatment allows your teeth to move right back to where they were before – crooked, gapped, or misaligned.
The Importance of Retainers
Retainers are custom-made appliances that are designed to help teeth and bones maintain their new positions and prevent them from moving back to where they once were. The muscles in your mouth and gums also need to fully adapt to the changes within your mouth, and they too benefit from the hold of retainers.
Retainers, in fact, are just as important as braces, if not more so. They are the insurance policy for your investment in orthodontics.
Selecting Your Customized Retainers
Many braces-wearers feel better about retainers knowing they have options about the types of retainers they want to wear. Every patient is different and, depending on the kind of braces you wore – adult braces or youth braces or Invisalign – that will affect what kind of retainers are appropriate for your smile.
Retainers can be fixed in place or removable. They can be clearly visible or more discreet. Permanent retainers are the best option for some people – they want their teeth to stay where they're meant to, but they don't want to worry about the responsibility of wearing a retainer or feel chained to taking a retainer in and out of your mouth all the time.
Clear retainers are a great option, and they are often the choice of Invisalign wearers who are already used to dealing with aligners. It's even possible to have a retainer bonded to the back of your teeth.
Retainers fit snugly, just like braces. And retainers need to be durable. In most cases, retainers are worn at all times for several months following treatment. After this period of time, it is typically recommended that braces be worn at bedtime.
You don't know what your retainer requirements will be until you complete your orthodontic journey. Find out what orthodontic options are right for you or your teen. Schedule a consultation at Roberts & de Marsche, the orthodontic practice serving Center City, Philadelphia and Lawrenceville, NJ, to learn more about braces and retainers.