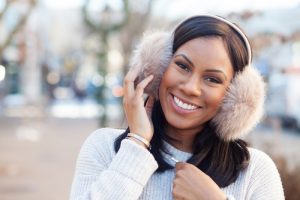 Tired of the same old New Year's resolutions? Treat yourself to some serious TLC and make the choice to finally straighten your teeth. You're never too old for braces, and there are plenty of orthodontic options so you can get the orthodontic treatment that is right for your oral health concerns and your lifestyle.
Braces? But I'm an Adult
Has your dentist ever recommended that you get braces because it could fix your problem with clenching and grinding your teeth, enamel erosion, gum recession, or those two teeth where food always annoyingly gets stuck?
Braces do address problems like these and more. You don't have to revert to adolescence and feel like you're sticking out because of a metal mouth. Many adults choose Invisalign braces to straighten their teeth. The aligners are incredibly discreet, so you never have to tell a soul that you're seeing a Philadelphia orthodontist or wearing braces.
Conventional braces can work for you too. Braces have come a long way in the past few decades. The brackets are smaller. You can choose ceramic braces that blend in with your tooth enamel. Lingual braces that are affixed to the back of your teeth are also possible.
Say Goodbye to Being So Serious
Do you smile without showing your teeth? If so, you're not allowing your grin to fully reach your eyes and emit a feeling of genuine warmth and happiness.
Do you speak less than you might want to because you don't want to draw attention to your teeth? Being too quiet can limit you professionally and personally.
Do you smile too little? When you don't smile because you're ashamed of your crooked teeth, you'll look unhappy, morose, unapproachable. How many opportunities have you missed out on because you don't want to show your teeth?
Adult braces change lives. Youth braces set young people up for a lifetime of good oral health. Say yes to a new year full of smiles.
Support Your Other Resolutions
If your goal is to be healthier, look younger, and find greater happiness in the new year, these resolutions can be supported by a smile makeover. Straightening your smile will not only give you beautifully aligned teeth, you'll have healthier teeth and gums, and you'll simply look better.
Accompany your newly straightened teeth with a teeth-whitening treatment and you will simply shine. Your smile is the focal point of your face, and when you're working hard to upgrade the rest of your body, a straight smile can only enhance the results of your hard work.
Rely on Your Center City Orthodontist in the New Year
Patience is necessary when you undergo orthodontic treatment. It's important to remember that with perseverance, you can achieve a beautiful, aligned smile. It helps to see that your smile, little by little, is getting straighter and better. There is no better motivation than gratifying results, no matter how minute they may be.
Schedule a consultation at Roberts & de Marsche, the orthodontic practice serving Center City, Philadelphia, and Lawrenceville, NJ, to find out what your best braces resolution is. Celebrate yourself with a straight smile in the new year.