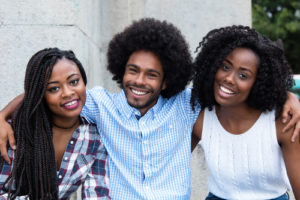 Invisalign comes in several different forms, but the one that's right for you will depend on where your teeth are now and how much they must move to get into alignment. Your Center City orthodontist will review every option with you before you settle on a treatment method. But, no matter what, when Invisalign is a reality, your braces will be clear, discreet, and efficient.
5 Forms of Invisalign
Every potential Invisalign journey begins with a full review of your oral health, alignment, and bite. Your orthodontist needs to conduct this evaluation to determine whether your teeth will really benefit from this treatment method. Sometimes, your budget or lifestyle will influence whether clear aligners are right for you but, chances are, unless you have a very complex case of misalignment, Invisalign can work to correct what you have going on.
Here are the versions of Invisalign and the patients who are right for them:
Invisalign Full: Also known as Invisalign Complete, this traditional alignment method is where aligners are worn on both the top and bottom teeth for about a year. Some cases may take longer. This is the treatment that will give you a straight, healthy, flawless smile and make your overbite, underbite, open bite, cross bite, and other problems disappear. When you're ready to commit to the work it takes to achieve a fully functional, straight, comfortable, healthy smile, Full is the right choice.
Invisalign Lite: This version works like Invisalign Full but the treatment time is shorter – usually six or seven months – and designed to correct minor orthodontic problems, like mild overcrowding and space issues. Adult patients often opt for Lite to correct small alignment problems before getting veneers or teeth whitening.
Invisalign Teen: Specially designed for the adolescent set, Invisalign Teen is an advanced treatment that can move the jaw forward, improve bite, and leave room for teeth that have yet to erupt. Blue compliance indicator dots on each aligner let your Center City orthodontist know if the patient is wearing their trays as often as they should. Most teens are so thrilled to qualify for clear aligners that they follow the rules of wear exceptionally well.
Invisalign Express: Didn't wear your retainers after your braces years ago? Have minor spaces that have always bugged you? Invisalign express usually involves five to 10 sets of trays and treatment lasts from three to six months to correct the alignment issues. If you're prepping for your wedding or want to tweak your smile quickly, this could be the right method for you.
Invisalign First: Even the youngest patients may be able to benefit from clear orthodontics. Invisalign First is for kids who need interceptive orthodontics to fix matters like spacing, crowding, and narrow dental arches.
Are You a Good Candidate for Invisalign?
The name of the Invisalign form you ultimately get is irrelevant. What's important is getting the orthodontic treatment that is right for you so you can get that beautiful smile you've always wanted. Learn more about all types of Invisalign and whether this alignment method is right for you. Contact Center City orthodontists and Invisalign providers, Dr. Roberts and Dr. de Marsche to schedule an appointment.