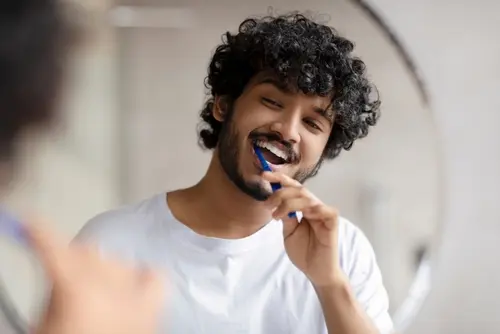 It's always a good time to make a resolution. January is not reserved for resolutions alone. Since self-care is an essential part of life and should be part of everyone's day, one of the biggest ways you can alter your world and feel better about yourself is by finally saying yes to Invisalign. It's never too late to get started, no matter what month of the year, no matter your age.
1. Minimal Commitment
A full course of Invisalign treatment takes about a year, on average. This might sound like a lengthy commitment, but conventional adult braces typically require double the wear time, sometimes longer. Invisalign shifts tooth roots and crowns simultaneously, which cuts treatment time significantly.
2. Nearly Invisible
Any adults who want to straighten their teeth usually wish to do so as discreetly as possible. While clear braces can get the job done, the brackets and wires are still noticeable. Invisalign trays are clear, thin, and fit so snugly against the teeth they're nearly invisible.
3. Easy Upkeep
If you brush and floss your teeth twice a day as recommended, this should take you a total of about five or six minutes a day. If you add Invisalign cleaning to that routine, you'll only add on another three or four minutes. Less than 10 minutes of cleaning and care for your aligners every day? That's reasonable.
4. Fast Results
One of the best things about straightening your teeth with braces or Invisalign for adults is how quickly you notice a change in alignment. Even if your orthodontist approaches treatment conservatively in the beginning, your teeth will begin to shift right away and the joy of watching your smile transform into beautiful alignment is enough motivation to keep you going and going all the way to the end.
5. No Interruptions
Adults have concerns about how Invisalign might negatively impact their professional, personal, and social life. These are normal qualms, but don't worry – Invisalign doesn't get in the way. The aligners are easy to remove so when you have a date, dinner plans, or major work presentation, you can take the trays out and store them safely. But, unless you're eating a meal, you don't need to remove the trays at all – they'll stay out of your way while you get your job done or enjoy time with your social circle.
6. Permanent Change
If you're focused on improving yourself this year, Invisalign is one of the best ways to make a change – and you and your orthodontist won't allow you to give up on your resolution just a few weeks or months in. This orthodontic treatment doesn't demand much of you but offers plenty in return. If your self-esteem has been on the fritz because of the condition of your teeth, the permanent change the aligners make to your teeth will boost your psyche from the start and stay that way permanently.
Find out if you are a good candidate for Invisalign. Schedule a consultation with Dr. Roberts or Dr. de Marsche in Center City, Philadelphia.