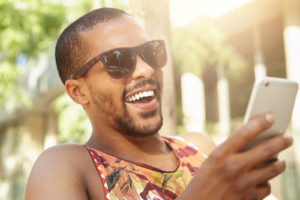 You would be hard-pressed to find someone who loves the appearance of braces. OK, maybe you could find a few celebs who aren't shy about their braces – Gwen Stefani, Faith Hill, and Tom Cruise all showed up on red carpets showing off their hardware, some more noticeable than others. If you haven't already made a name in your line of work, however, or if obvious metalwork on your teeth isn't going to do you any favors personally or socially, you'll love the look of Invisalign, the nearly invisible way to straighten your teeth.
Invisalign Is the Subtlest Way to Straighten Teeth
Invisalign for adults is revolutionary. This alternative to braces uses clear aligners to straighten teeth, which means no one ever needs to know that you're undergoing orthodontic treatment.
Wearers of Invisalign remove their aligners for meals and snacks, so you can enjoy all the foods you always have without restriction. And you won't be sitting at the dinner table trying to unobtrusively pluck food out of your brackets. Cleaning is easy, too– brush and floss as always, and clean your aligners before you put them back in your mouth.
Invisalign can correct nearly all the same problems as traditional metal braces while still giving patients freedom. Plus, the confidence you develop when your teeth are getting straighter makes this discreet orthodontic effort worth it.
Alternatives to Invisalign – And Still Discreet
If you're not a good candidate for Invisalign or you don't want the responsibility of dealing with aligners and changing them every few weeks as instructed, there are two other options that might work for you before you must get conventional metal braces.
Ceramic braces aren't invisible like Invisalign, but they are the sister to traditional metal braces, and far more discreet. Instead of applying metal brackets to the teeth, your Center City orthodontist will use tooth-colored or clear brackets and wires to alter your bite and straighten your teeth.
Lingual braces are also an alternative to Invisalign. The brackets and wires are attached to the back of the teeth, though many patients consider this option uncomfortable.
Clear Braces for Teens
Teens have enough awkward moments to worry about – their teeth shouldn't be one of them. Thank goodness for Invisalign Teen. Just like Invisalign for adults, Invisalign Teen has one additional component – handy wear indicators on the back of each aligner, so your Philadelphia dentist knows whether your teen is wearing their aligners as often as they're supposed to.
Not a good candidate for Invisalign Teen? No worries. Consider a celeb like Dakota Fanning – she grew up in the spotlight, and that meant her teeth were in the spotlight too. Even though it was obvious she needed orthodontic intervention to straighten her mouth of wonky teeth, her dentist worked to make her alignment efforts as subtle as possible, giving her clear braces.
Find out if you or your teen are good candidates for Invisalign. Make an appointment with orthodontists Dr. Roberts and Dr. de Marsche, Center City Invisalign providers.