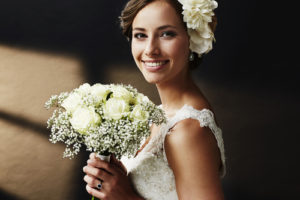 Wedding prep happens months in advance for the most serious brides and grooms. Not only do you want every detail of the day to go according to your vision, you want to look your very best. Exercise, diet, hair style, and makeup all work together to create that flawless wedding look, but there's one important element that shouldn't be forgotten – your smile. Invisalign can get your teeth where you want them to be in time for your "I do."
You Have Time for Invisalign
Your wedding to-do list is already long. Good thing Invisalign for adults won't demand too much of your time. Invisalign treatment takes an average of one year to complete. Some cases take longer, some take less. If you're like most engaged couples and planning your nuptials months or even years ahead, you'll have plenty of time to get your crooked, gapped, or misaligned teeth in order too.
Once you've had your initial appointment with your Center City Invisalign provider and your treatment has been mapped out, you'll only need to see your orthodontist about once every six weeks for a check-up. He or she will make sure treatment is progressing as it should and provide you with your next sets of aligners to take home.
Invisalign Won't Get in the Way
You have florists to meet and cakes to taste, engagement parties to attend and photos to smile for. Invisalign won't interrupt any of it. Because the aligners are nearly invisible and super-thin, no one will be able to see Invisalign in your mouth. You can speak and smile with confidence for every gathering and meeting. Above all, you can break out those beautiful teeth for every photo – and by the time your wedding day rolls around your smile will be absolutely, perfectly straight. Now those will be some memorable wedding photos.
You Might Shape Up in Other Ways
Some Invisalign wearers discover that they lose a few pounds throughout the course of their treatment. Your orthodontist won't make any promises, but when you are making careful decisions about whether a snack is worth the effort of taking out your aligners, when you can't sip on a soda all day, you may just notice that the scale is changing. Most brides and grooms welcome this unexpected perk.
It'll Be a Happy Life
Tending to your smile pays dividends. Not only will you feel your best about yourself on your wedding day, you'll find it easier to smile as married life begins and the rest of your life adjusts alongside it. Smiling is contagious, and smiling makes you happy. If you married someone who makes you laugh, well, then, you've hit the jackpot.
Get the kind of smile you want preserved in your wedding photos. Find out if you're a good candidate for Invisalign. Make an appointment with orthodontists Dr. Roberts and Dr. de Marsche, Center City Invisalign providers.