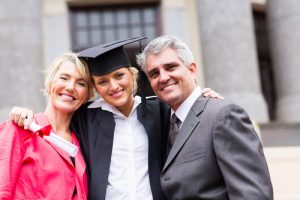 Whether you're the one graduating or you're the parent of a graduate, a straight smile will make the milestone that much better. Center City Invisalign braces are an efficient, discreet route to straight teeth, and this orthodontic solution can work for different age groups. The result is the same for everyone though: aligned teeth and a beautiful smile.
Invisalign for Teens
Whether the adolescent in your life is graduating from middle school to high school, high school to college, or college to real life, there are changes afoot. The last thing they want to do is interrupt their growing and maturing with a course of conventional metal braces. If invisible braces are an option, they'll latch on to this alignment solution so they can focus on their daily life and the future ahead without worrying about brackets and wires getting in the way.
Invisalign Teen is designed specifically for teens. For parents who are worried that their distracted and busy teen isn't prepared for the responsibility of Invisalign, this kind of orthodontic treatment is actually very successful for teens. This demographic adapts to new situations quickly because, well, they simply have to. There are so many changes going on in their lives in so many ways – making Invisalign fit into the picture is easy enough. Plus, teens are motivated to discreetly get through what is sometimes considered a mortifying rite of passage.
If you're concerned about your investment and whether your child may slack on his or her commitment to Invisalign treatment, there is a built-in insurance policy with Invisalign Teen aligners. A small blue wear indicator is located on the back of each invisible aligner. When you go for each check-up with your Center City Invisalign provider, they will know right away whether the patient has been wearing their braces properly.
Invisalign for Adults
If you're a parent who wants to graduate to a new smile, now is the perfect time to do it. If you have a teen going off to college, or you have an adolescent who's making his or her way in high school, or if you simply have little ones at home, this is a perfect opportunity to finally focus on your own needs. Invisalign for adults is ideal for busy people who are ready to get the straight smile they've always wanted without interrupting their grown-up life.
Invisalign aligners are practically invisible. They are super-thin and fit snugly to your teeth so that no one will ever know you're wearing them. You remove Invisalign for meals and cleaning but, otherwise, wear them the rest of the day, including at night. The goal for wear time is 20 to 22 hours a day and, once you get used to the treatment, you can make it work, just like the dozens of other tasks you juggle.
Invisalign won't interfere with your job – no worries that people will be distracted by your braces at a professional gathering or presentation or meeting. You can go to dinners or social events with Invisalign in place and engage as usual. Just make sure you pop the aligners out before any drinks – water is the only beverage allowed while Invisalign is in place.
Before you know it, you'll be getting your own certificate of completion in the form of a new, straight, beautiful smile. And you can even top it off with a professional teeth-whitening treatment to make your grin look better than it ever has.
Find out if you or your teen are good candidates for Invisalign from your Center City Invisalign provider. Make an appointment with orthodontists Dr. Roberts and Dr. de Marsche in Philadelphia or Lawrenceville, NJ, to learn more.