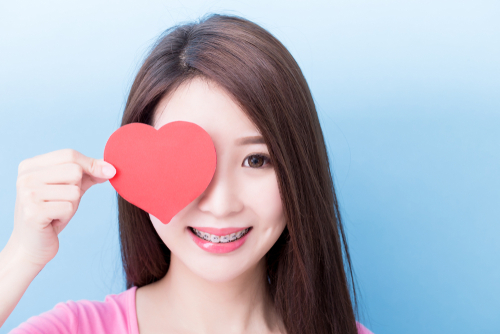 February begins with a groundhog, has hearts and romance in the middle, and ends with many people scratching their heads wondering if there are 28 or 29 days in the month. Amid this chaos, braces remain a constant for our patients. We love braces, and there are many reasons even non-orthodontists should love them too.
1. Braces Are Cooler Than Ever
Once upon a time, braces were made of big metal brackets and wires. That was the one and only option. Now, braces come in all different shapes, sizes, colors, and materials.
Conventional metal braces: Smaller and more user-friendly than ever, they get the job done.
Ceramic braces: Tooth-colored brackets blend right into your teeth for a minimalist vibe.
Clear braces: Brackets and wires are clear and braces are as subtle as can be.
Invisalign: Clear, nearly invisible trays that are removable, slim, and fit snugly against the teeth.
Invisalign Teen: Invisalign, but designed just for the adolescent crowd.
2. You and Your Kid Can Wear Them at the Same Time
Say what? Braces for your teen and you simultaneously? It's totally possible and is a great way to bond and appreciate what the other person is going through. You can get Invisalign for adults and enjoy the discreet way to fix those gaps and crooked teeth that have always bugged you. Your child can get Invisalign Teen, which comes with built-in wear indicators to ensure they're wearing their trays according to the orthodontist's instructions. And then you can enjoy life with retainers when treatment is complete.
3. They Let You Show Off Your Style
Braces are braces and there isn't much to be done about the way they look once you've selected an option – unless you go crazy with rubber bands. This little accessory lets you choose colors you love, that match an outfit or season of the year, that celebrate your favorite sports team, or that support your wish to have your braces fade into oblivion if at all possible (we mean clear rubber bands). If you think you're stuck with one look when you have braces, think again.
4. They Spice Up Your Online Presence
Whether you are an Instagram, Snapchat, Twitter, TikTok, or YouTube user – or even if you're dating online – it's guaranteed that your dental hardware will give you some personality in all your photos and videos. Instead of shying away from the reality that you have braces, show them off, document your journey, post about your ups and downs, keep it real. You'll never be at a loss about what to say on social when you have your trusty braces on your teeth. Think of the other people you'll inspire with your honesty!
5. They Are Made Just for You
Braces are hardly one-size-fits-all. In appearance and construction, they are designed specifically for you and your unique alignment needs. You may qualify for braces and Invisalign, or maybe just one option, but there are always choices and alternatives that will get you the straight smile you want.
Learn more about why we love braces and why you should do. Schedule an appointment with your Center City orthodontists at Roberts & de Marsche.