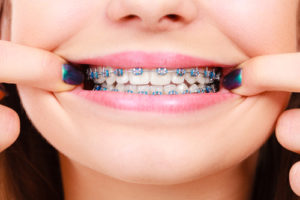 You may feel like so many things in life are on hold because of the pandemic, but braces don't have to be. In fact, this winter is one of the best times to get your orthodontic treatment started. Isolation, social distancing, and mask wearing are perks for brand new orthodontic patients who would rather hide than smile – so make the most of this opportunity to perfect your grin.
You're Wearing a Mask Anyway
Your new appearance is one of the biggest things to get used to when you get braces. It's natural to feel self-conscious whether you have brackets and wires on your teeth or Invisalign aligners, whether you're a kid or an adult. Braces are a big change and it takes time to adjust to them. You may want to lay low until you're no longer self-conscious about your new appearance. Enter: masks.
When you see anyone besides your immediate family, you should be wearing a mask for health and safety. That means your braces are concealed. You could potentially get through a third of your orthodontic treatment while a mask mandate is still in place. Take advantage of this time.
It's Safe at the Orthodontist
Your orthodontist has always practiced extreme safety when working on your teeth and perfecting your smile. Intense sanitization, gloves, and masks are the norm for any oral health professional. These safety measures have only increased in the time of the coronavirus, making your Center City orthodontist's office one of the safest, cleanest environments you can enter today.
We screen every patient at the time they make their appointment, before they arrive, and before they enter our facility and have limited the number of people permitted in our office at the same time. Our staff undergoes daily screenings and follows heightened cleanliness and precautionary measures. Cleaning of the patient chairs occurs between each patient and exam rooms, waiting area, and commonly touched surfaces occurs several times throughout each day.
You Don't See Many People
If you're following guidelines for social distancing and not socializing as readily as you once did, then you only have a small bubble of people who see you regularly. Whether you're an adult working from home or a teen doing virtual learning, you aren't coming face-to-face with too many folks who will be peering at your braces.
Sure, you're doing Zoom calls and plenty of FaceTime chats, but your orthodontics won't be that noticeable on the screen, especially when there are other distractions or people to look at.
Get Braces in Center City
The forced isolation we are all living in right now makes this a great time to invest in yourself and improve your oral health, alignment, and the appearance of your smile. You'll be ready to jump into life and give everyone big grins when the pandemic has faded away – hopefully sooner rather than later.
Make this winter your time for straightening your smile and getting the braces that will not only improve your appearance but your overall oral health. Contact your Center City orthodontist and Invisalign providers, Dr. Roberts or Dr. de Marsche, to schedule an appointment.